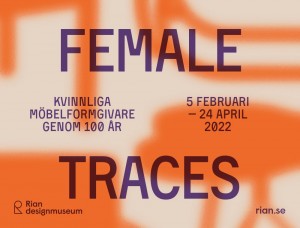 Exhibition at Rian Design Museum
Female Traces – Female furniture designers through 100 years
The exhibition Female Traces highlights both historical pioneers from the 20th century and women in today's young designer generation. With a generous selection of Swedish and international material, the exhibition provides a picture of the importance that female designers have had for the development of modern and contemporary design.
The exhibition shows furniture such as chairs, armchairs, shelves and tables by, among others, Aino Aalto, Mia Cullin, Kerstin Hörlin-Holmquist, Monica Förster, Eileen Gray, Lena Larsson, Karin Mobring and Charlotte Perriand.
FEBRUARY 5 – APRIL 24
Welcome!